Utställningar och Evenemang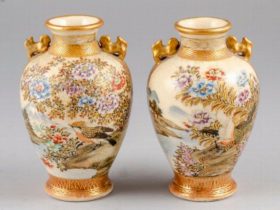 Kulturhistorisk museums seminarrom i St. Olavs gate 29, OSLO Lördag 19 oktober kl 11.30-15.00
PECHA KUCHA
Ett seminarie av Norsk Selskap for Orientalsk Keramikk. Pecha Kucha är ett presentationsformat som alltid innehåller 20 bilder, som visas 20 sekunder vardera. Pecha kucha-formatet uppkom i Japan, och har sedan spritt sig världen runt.
Per Terje Norheim Dramaet ved Rashomonporten
Egil Mikkelsen Maldivene – Den buddhistiske kulturarven og dagens muslimer
Kari Lauritzen Hva er Satsuma?
Tore Hagen Kinesisk Peranakan porselen. Et fargesprakende møte med kulturen i Singapore, Malacca og Penang
Anne Håbu Treet på Ninomiya Beach
Johanne Huitfeldt En celadonvase fra Koryo-dynastiet
Pause: Enkel lunsj med kaffe og te
Regine Gamlem Kamon: En idè, tusen versjoner
Anne Merete Knudsen En kinesisk tapet fra 1700-tallet
Nikolai Yde Aksnes Vedfyring av keramikk- japanske forbilder og egne erfaringer
Peder Valle Willow Pattern fra Kina til Herrebøe
Anders Håan Shunga – japanske erotiske trykk
---
Tips på utställningar i London
THE BRITISH MUSEUM
Great Russell Street, London WC1B 3DG. www.britishmuseum.org
The Sir Joseph Hotung Centre for Ceramic Studies housing the Sir Percival David Collection of Chinese Ceramics. The Sir Joseph Hotung Gallery for China and South Asia; the Mitsubishi Corporation Japanese Galleries; The Korea Foundation Gallery Arts of Korea; The Selwyn and Ellie Alleyne Gallery: 7000 Years of Chinese Jade from the Collection of Sir Joseph Hotung; The John Addis Islamic Gallery. Sir Joseph Hotung Gallery for China and South Asia (Room 33). The Mitsubishi Corporation Japanese Galleries (Rooms 92-94). The Albukhary Foundation Gallery of the Islamic World reveals the British Museum's outstanding collections in engaging new ways, underscoring the global connections of this vast region of the world.
VICTORIA & ALBERT MUSEUM
Sir Stamford Raffles: collecting in Southeast Asia 1811-182419 September 2019 – 20 January 2020, Room 91.
Kimono: Kyoto to Catwalk 29 February – 21 June 2020.
Gallery 39 and the North Court. The ultimate symbol of Japan, the kimono is often perceived as traditional, timeless and unchanging. Kimono: Kyoto to Catwalk will counter this conception, by presenting the garment as a dynamic and constantly evolving icon of fashion. The exhibition will reveal the sartorial, aesthetic and social significance of the kimono from the 1660s to the present day, both in Japan and in the rest of the world.
Blanc de Chine, a Continuous Conversation 5 September 2019 – 10 May 2020. China, the T.T. Tsui Gallery (Room 44); and Ceramics, Room 146. Historic pieces from the V&A's Asian and European ceramics collections, as well as a selection of new works by contemporary makers including: Babs Haenen, Lucille Lewin, Liang Wanying, Jeffry Mitchell, Su Xianzhong, and Peter Ting. Retelling the story of porcelain-making in Dehua.

Japanese Cloisonné Enamels: A Suggestion of Endless Patience The Toshiba Gallery, Room 45.
Japanese enamels selected from the gift of 89 objects donated in 2011 by Edwin Davies, CBE (1946 – 2018) and those subsequently acquired through The Edwin Davies Fund. One of the museum's most generous benefactors, Eddie was captivated by the superb craftsmanship of Japanese enamels and encouraged the promotion of this refined art form.
---
Asian Art in London 2019
31 0ktober – 9 november. Läs mer under program, samt på www.asianartinlondon.com
---